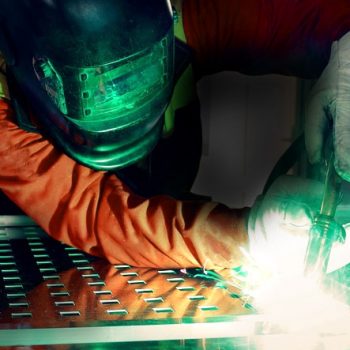 It's one thing to design and build some of the most beautiful and functional metal architectural elements in Atlanta. It's another to do so while maintaining an excellent safety track record. Cobb County's Mills Specialty Metals does both, and in style.
Safety has always been a top priority with Mills, and its previous Experience Modification Rate (EMR) score of 0.83 was significantly better than the metal fabrication industry average of 1.0—lower is better. So it won't come as a surprise that everyone at Mills is quite proud of its most recent EMR rating of 0.80.
This notable achievement comes courtesy of class-leading training, procedures and safety-focused communication. For Mills or any company achieving a low EMR rating, the rewards are well worth the extra time and effort, with employee safety being the most important benefit. Better EMR scores also reduce workers' compensation premiums.
For companies and organizations in and around the Atlanta metro area sourcing custom metal fabrication, knowing the fabricator hired to complete the work has safety as a top priority brings added peace of mind to the project and job site.