Exceptional Quality. Superior Service.
Mills Specialty Metals is a minority-owned business in the metro Atlanta area that is dedicated to providing the best custom metal fabrication in Atlanta and across the Southeast.
We employ highly-skilled craftsmen, estimators, project managers and administrative staff who all bring a wealth of experience and education to your project. Every person on our team is committed to providing the highest level of quality possible. With more than twenty years of experience, the team has a proven reputation for delivering durable, high-quality and great looking custom metal projects. Each Mills Specialty Metals metal worker is a uniquely-qualified artisan with the appropriate certifications: welding, safety or numerous other construction-related disciplines.
You'll find we place a strong emphasis on meeting project timelines, staying within budget and upholding excellent safety standards. Comprehensive insurance and bonding capabilities are available upon request.
At Mills Specialty Metals, we're local residents who believe in — and are actively involved in — our community.
I hope we have the opportunity to serve you in the very near future.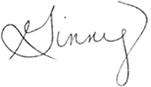 Ginny K. Moore
President / CEO
Learn More